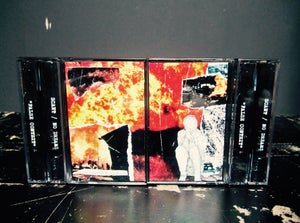 $

12.00
"Scant (NYC) and No Dreams (Chicago) are two of the most interesting artists in the current climate of American noise without having any flashy tactics--there is no bullshit here--just a thorough exploration in negative sound.
Low frequency harsh crumble, crude field recordings, junk metal & minimal tape manipulation provide the backdrop to what feels like a looming mental breakdown.
Each artist is at their absolute finest in their solo contributions here. This also stands as the first Scant material recorded after some years of inactivity both artistically and personally. When the two come together on collaborative tracks the result is devastatingly morose. Finally realizing there is no end in sight--letting the rain fall indefinitely.
You won't find any schtick to grasp onto on "False Context"--Just a truly harrowing, discomforting listening experience. Fuck the entire world.
Absolutely essential."
by Chris Hansell (Ligature, Warthog..."